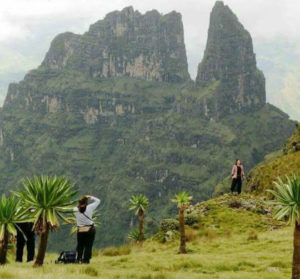 The Simien Mountains National Park (SMNP) in Northern Ethiopia is an exotic setting with unique wildlife and breath-taking views on a landscape shaped by nature and traditional agriculture. The natural beauties of this region have always filled visitors from Ethiopia and abroad with awe. Gentle highland ridges at altitudes above 3600 meters above sea level (masl), covered with grasses, isolated trees (Erica Arborea) and the bizarre Giant Lobelia (Lobelia rhynchopetalum) are found on the high plateau that ends abruptly at 1000- to 2000-m deep escarpments.
Location: The Park is situated on the northwestern side of the Simien mountains massif in northern Ethiopia, roughly 900 km north of Addis Abeba. Situated on the northern edge of the central plateau of Ethiopia, the region overlooks the lowlands of the Tekeze River (also known as 'Mare' in Sudan). Politically, the area belongs to the North Gonder Zone of the Amhara National Regional State. The Simien Mountains National Park itself lies in the Weredas (districts) of Debark, Adi Arkay and Janamora.
Climate: Approximately 75% of the average annual rainfall of 1,550mm occurs between June and September. Temperatures do not change significantly throughout the year, however there is a huge variation between daytime and night-time temperatures – sometimes described as "summer every day, winter every night." The coldest months are October – December. Daytime temperatures range from 11°C to 18°C (52°F to 64°F) although wind and strong sunlight can affect this, while night-time temperatures range from -2°C to -10°C (28°F to 14°F). From November to March, skies are clear and the sun is strong, although dust abounds.  A short rainy season falls somewhere between February and March when you are likely to encounter a short period of rain every day.
Average rating:
1 reviews
Aug 18, 2017
Stunning scenery and incredible wildlife
We had an amazing experience in the Simien Mountains. The scenery was truly breathtaking, every half km producing another incredible view point. Being amongst the Gelada baboons was memorable and we also had a sighting of the rare Walia Ibex, plenty of other widlife and plants to enjoy.