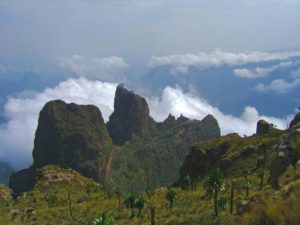 Ethiopia is home to 80% of the land in Africa above 3,000m. Thus, the Simien Mountains, with the highest point in Ethiopia (Ras Dejen at 4,533m) is also known as 'the roof of Africa.'
The Simien Mountains were formed prior to the creation of the Rift Valley, from lava outpourings between 40 and 25 million years ago during the Oligocene period. The volcano is believed to have spread over more than 5000m2 and resulted in a thick sequence of basaltic volcano some 3,000-3,500m thick that was deposited on 500m thick Precambrian crystalline basement. The major part of the Simien Mountains consists of remnants of a Hawaiian-type shield volcano. The Kidus Yared peak is situated near the center of the shield volcano. Ras Dejen (4,533m), Bwahit (4,430m) and Silki (4,420m) were formed from the outer core of this ancient volcano.
The extreme escarpment in Simien appears to be a precondition for the formation of the extended uplift of the whole mountain massif 75 million years ago. The dramatic views are due to this volcanic activity. Especially of note is the 2,000m high escarpment extending in a southwest-northeast direction. Continued erosion has enhanced the display of the escarpments for the views you see today.
There are different types of soils as a result of difference in geological formation, glaciations, topography and climate. The Humic Andosol is the dominant soil type which is mainly found at an altitude of 3,000m. The other types of soil are shallow Andosols, Lithosols and Haplic Phaeozems that are mainly common in the area between 2,500 and 3,500m. The Simien Mountains are highly eroded as a result of human land use practices and as a result of the topography of the area.
Average rating:
1 reviews
Jul 26, 2017
Excellent Trek
We spent an unforgettable week trekking in the Simeon mountains, trekking between Gondar, Sankaber, Geech and Chenek, summiting at Buhayet (the tip of Mount Janamora), where we also took in great views of Ras Dejen, the highest peak in Ethiopia. Dave Yohannes  designed the itinerary to suit our needs perfectly and ensured we had a very pleasant (yet still tough!) week of trekking.